ZDL Open Tournament Results
The professor of the new club "Kungfu Wushu Academy" was noticed last Sunday May 21, 2017 in Waterlooville (near Portsmouth) during the Open Tournament organized by the school Zheng Dao Lo Martial Arts Academy.
TOTAL 5 MEDALS FOR FREDDY PAILLARD
4 GOLD MEDALS
1 SILVER MEDAL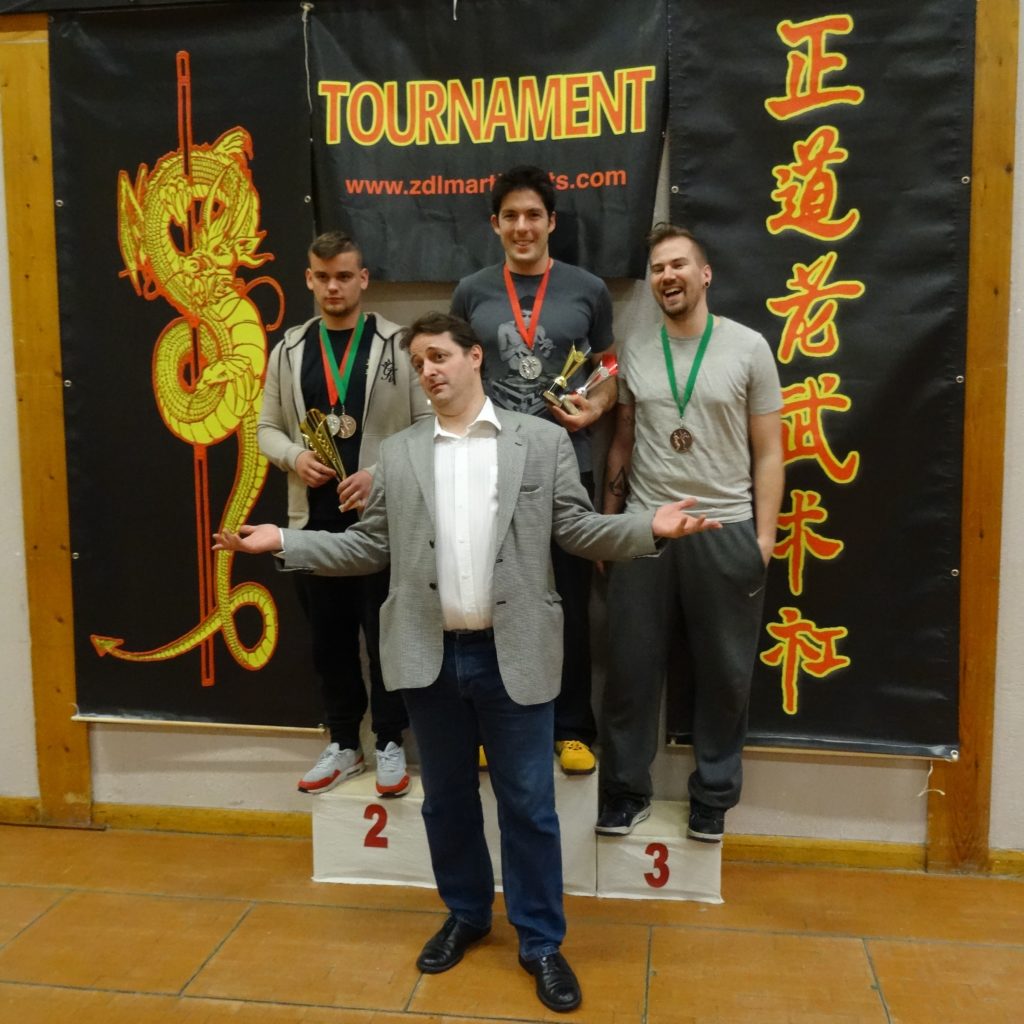 Grappling podium with my friends from ZDL Kickboxing Swindon
The day began with 2 passages in Taolu:
TAOLU (Codified form of techniques with bare hands or with weapons):
Gold medal with bare hands with a Taolu that Freddy learned in 2010 with Master Wubin (teacher of famous actor Jet Li). There were 8 participants in his category.
Gold medal with the three-section staff (San Jie Gun) a typical Kungfu weapon that Freddy learned to manipulate with a Shaolin Master during a workshop in France a few years ago. There were 8 participants in its category.
The day continued with 10 fights in 5 different categories:
At the end of the morning, in SANDAO (Traditional fighting without protections which uses the techniques of Kungfu and the different postures of the imitative styles):
Silver medal after 3 fights
In GRAPPLING (fighting system which uses the rules of the amateur MMA):
Gold medal after 3 fights
In the afternoon, in CHINESE KICKBOXING (kickboxing fighting who gets Kungfu techniques):
4th in the category of points fighting system. The central referee stops the fight each time a fighter has touched his opponent with a valid technique.
Gold medal in the category of Team points (winning a fateful fight to separate the two teams that were equal)
4th in the category of continuous fighting system after 2 fights
"Tiredness began to be felt in the middle of the day, which is what happens when you register with 7 categories and you make 12 passages on the mat. But I am very satisfied with the results even if I hoped better for the fight" says Freddy Paillard. "I would like to warmly thank Shifu Paul Dawkins who teaches me twice a week at ZDL Kickboxing Swindon. It was him who helped me to create my club and offered me to participate in this tournament".
BEAUTIFUL MEDALS PROSPECTS FOR THE FUTURE NATIONAL COMPETITION (BCCMA National Championships 2017 in July around London).